---
This is a new, exciting and core element of what we do, to help our service users take small, significant steps towards employment and independent living. Our programme enables people to learn new skills, take risks in a safe environment and build confidence. From learning how to set-up an email account – to exploring the basics of writing – to becoming comfortable on a bike. So far we've had great feedback from service users on the positive impact these classes are having in helping them make changes in their lives.
We run activities in two main areas:
employment/life skills
self expression/personal development.
Find out about our programme of activities and classes below…
Activities and classes
Art
Art is therapeutic, calming, and so much fun! In this session we encourage and express our creative sides without judging the outcome.
Thursday 1:30pm
Computer skills – basic
This class encourages people to put their fears aside and join the computer generation. Learn how to set up an email account, write and save documents, and explore the world social media.
Monday 1:30pm
Collaborative cooking
Learn cooking skills, food hygiene and collaborative skills. The class prepare a meal for their peers and then serve it in the Gateway Centre. Lead by Louise Owen from Grow Wild.
Thursday 10am-1pm
Goal-Setting
Setting goals can be a key part of figuring out what direction you want your life to take – even though it may be hard to visualise the changes occurring. This session helps people to:
identify where they want to be
start mapping out a plan to get there
find ways to stay motivated.
Wednesday 1:30-2:30pm
Employability support
A qualified careers advisor can look at your CV with you and work with you to make improvements.  We also have employment workshops on topics such as Universal Job Search and how to navigate the Internet for job opportunities.
All day Tuesday
Next Steps to Employment
Come and explore your skills talents and discover work, volunteer and apprenticeship opportunities in a group.
Friday 11:30-12:30pm
Reading and writing basics
For people who need support with the basics we offer intensive reading and writing support in this class.  The teacher has experience with adult literacy and people with special educational needs.
Wednesday 11:30am
Writing
Creative writing, poetry, story-telling, non-fiction and free-writing all encourage thinking and learning.  Attendees work on writing exercises that stretch creative muscles while learning important literacy skills.
Wednesday 11:30-12:30pm
Yoga
Yoga stills the mind and gently exercises the body. Focusing the mind and body through tried and tested gentle poses helps release stress and strain. Attendees of this class will feel calm, refreshed and ready to face the rest of their day after the class.
Monday 11:30am
Want to join in?
Booking for activities can be done in-person, with a member of staff, in the Gateway Centre.
If you are interested in a class or activity that you don't see listed on our website, come in and have a chat with our learning and activities coordinator. We may be able to point you towards an activity offered by one of our partners, or if we think it's a great idea we'll see if we can offer ourselves.
Got a skill to share?
We are always looking for people who can help run our learning & activity sessions. So if you are great at something, and would like to share it with our service users, we would love to hear from you.
Tell us your skill
---
---
How our classes are empowering people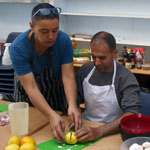 "I was an angry person earlier on. I was thinking about beating someone up.  But the yoga class has made me think positive. The breathing helped me-I don't care about it now. It helped me get it out. It was brilliant."
"The drama is good as it makes everybody feel at home and appreciated.  You feel there are other people who feel like you-you're not struggling alone. You feel consoled".
"Sometimes I feel I could have learned how to use the computer a long time ago, and so I feel a bit embarrassed.  I'm really enjoying the Basic Computer class.  I'm feeling a bit more confident".
"It's good to do activities, it stimulates the brain".
---
---

Event calendar
From April to September 2016 we helped…
9 people enter employment
2 people join courses at college
116 people take part in sessions to improve their basic skills and employability